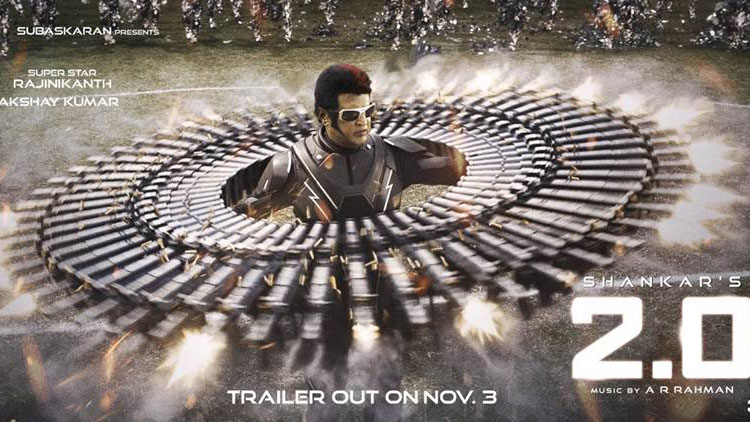 Superstar Rajinikanth and Akshay Kumar starrer 2.0's trailer is out and it is every bit as entertaining as one would have hoped. The action looks cool, the visuals are spellbinding and Rajinikanth, as he says in the trailer of the film, is ready to set the screens on fire. With so much going on, the film is preparing itself to set the cash registers ringing at the box office. Here are five key takeaways from the film.
Superstar Rajinikanth is back to win hearts
After Kaala, everyone's favourite Rajinikanth is ready to steal away hearts with his Chitti version 2.0. In the trailer of the film, the star romances, fights the bad guy and promises to set things ablaze in true-blue Rajini style.
Akshay Kumar – The bad guy
With Shankar's 2.0, Bollywood star Akshay Kumar is making his foray in the south Indian film industry. And from the looks of the trailer, this venture will prove to be successful for the actor. There are a lot of money shots of Akshay in which he is threatening to destroy those who keep cell phones. Looks like our man has a specific bone to pick with mobile lovers. Akshay looks menacing in his Crow Man avatar and promises to match steps with Rajinikanth.
The visuals
2.0 is all about the visuals and they are quite awe-inspiring. Especially the ones where Akshay and Rajinikanth get ready for the combat of the ages. Then of course there is the shot where we see Chitti battling an army of robot-like creatures, a segment of which we had seen in the teaser as well.
The action
The action sequences are special in 2.0 as they feed off the visual effects in the film. The two almost share a symbiotic relationship in the movie. The hand-to-hand combat scene in the film is especially jaw-dropping as we see a massive Chitti dropping a mean kick on Akshay's Crow Man.
The plot
2.0 is being touted as the spiritual successor of Shankar's 2010 blockbuster Enthiran. Therefore, it would be interesting to see how this film takes the narrative further. The trailer also introduces the concept of the fifth force, which is not dwelled upon in great detail in the video. And why does Crow Man hate cell phones? Also, how does Amy Jackson figure in the narrative? The trailer leaves us hanging.
 video source: Dharma Productions