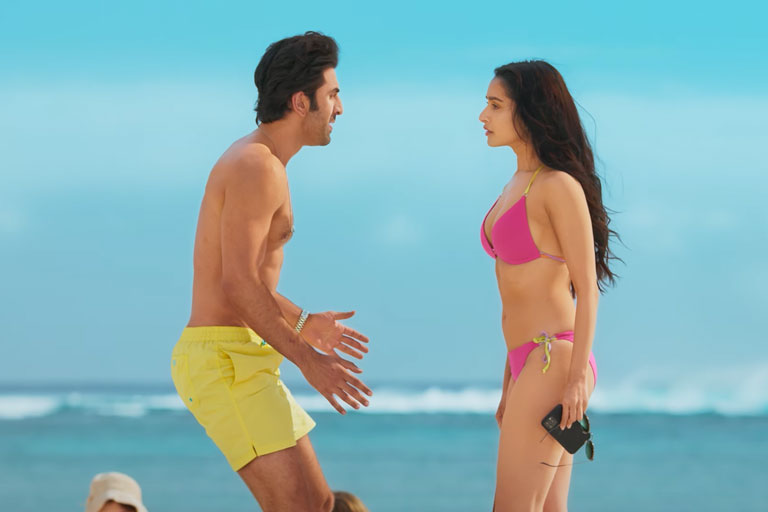 The trailer for Tu Jhoothi Main Makkaar, starring Ranbir Kapoor and Shraddha Kapoor, has finally been released. Directed by Luv Ranjan, this romantic comedy promises to be a colorful new take on the genre, with sizzling chemistry between the lead pair.
The movie follows the story of Ranbir and Shraddha as they easily fall in love but struggle to break up. They are faced with a lot of crazy situations that test their patience as they try to navigate their relationship. The trailer shows Ranbir trying to win over Shraddha with his charm, and after much effort, the two start dating casually.
However, things take a turn when they try to part ways (without showing each other that they are the ones initiating the breakup) after getting engaged. They try several tricks to put the blame on each other, but all their efforts are in vain. The question remains, will their families get them married or will they be able to part ways? The audience will have to wait until the movie's release to find out.
The trailer also introduces Dimple Kapadia as Ranbir's mother and comedian Anubhav Singh Bassi as Ranbir's best friend. Tu Jhoothi Main Makkaar is produced by Luv Films' Luv Ranjan and Ankur Garg and presented by T- Series' Gulshan Kumar and Bhushan Kumar. The movie is all set to have a festive release in cinemas on Holi, March 8 this year. With a star-studded cast and a promising storyline, Tu Jhoothi Main Makkaar is definitely a movie to look forward to.
Additionally, the trailer presents a glimpse of the characters' personalities and the comedic elements that will be a part of the movie. The relationship dynamics between the lead characters and their families and friends also seem important to the movie. The audience can also expect to see some cleverly crafted comedic situations that will keep them entertained throughout the movie.
It is clear that the movie promises a fresh take on the romantic comedy genre, with a unique story line and characters that are sure to keep the audience engaged. The movie's release on Holi, a festival of colours and joy, only adds to the festive atmosphere and anticipation for the movie. With the talented cast and crew, Tu Jhoothi Main Makkaar is expected to be a hit with audiences of all ages.
Check out the trailer here